Oil Recirculating Chillers
What is an oil recirculating chiller ?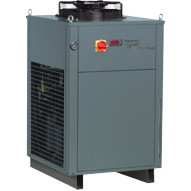 Oil recirculating chillers are constructed like their water-based counterparts with a hermetically sealed refrigeration machine and a hydraulic section with pump and microprocessor-controlled temperature regulation.

Oil recirculating chillers are supplied without a separate tank as standard. However, a tank is available as an option.

Water or water with additives is generally the less complicated cooling medium and is therefore used by preference. However, wherever water or water mixtures cannot be used as a cooling medium and use of oil is required, the National Lab oil recirculating chillers are the right choice.

Like the cooling water recirculating chillers, the oil-based units can be produced with an air-cooled or water-cooled refrigeration machine.
Schematic diagrams of oil recirculating chillers
Single-circuit system including tank
1. compressor
2. condenser
3. expansion valve
4. evaporator
5. pump
6. consumer / application
7. tank
Single-circuit system without tank
1. compressor
2. condenser
3. expansion valve
4. evaporator
5. pump
6. consumer / application
---